Search for Rooms

Guaranteed Best Rate
Booking on our official website guarantees you the best rate
Recommended Ways to Spend Your Time
To help you make the most of an unforgettable trip,
we have prepared some seasonal reccommended spots and experiences.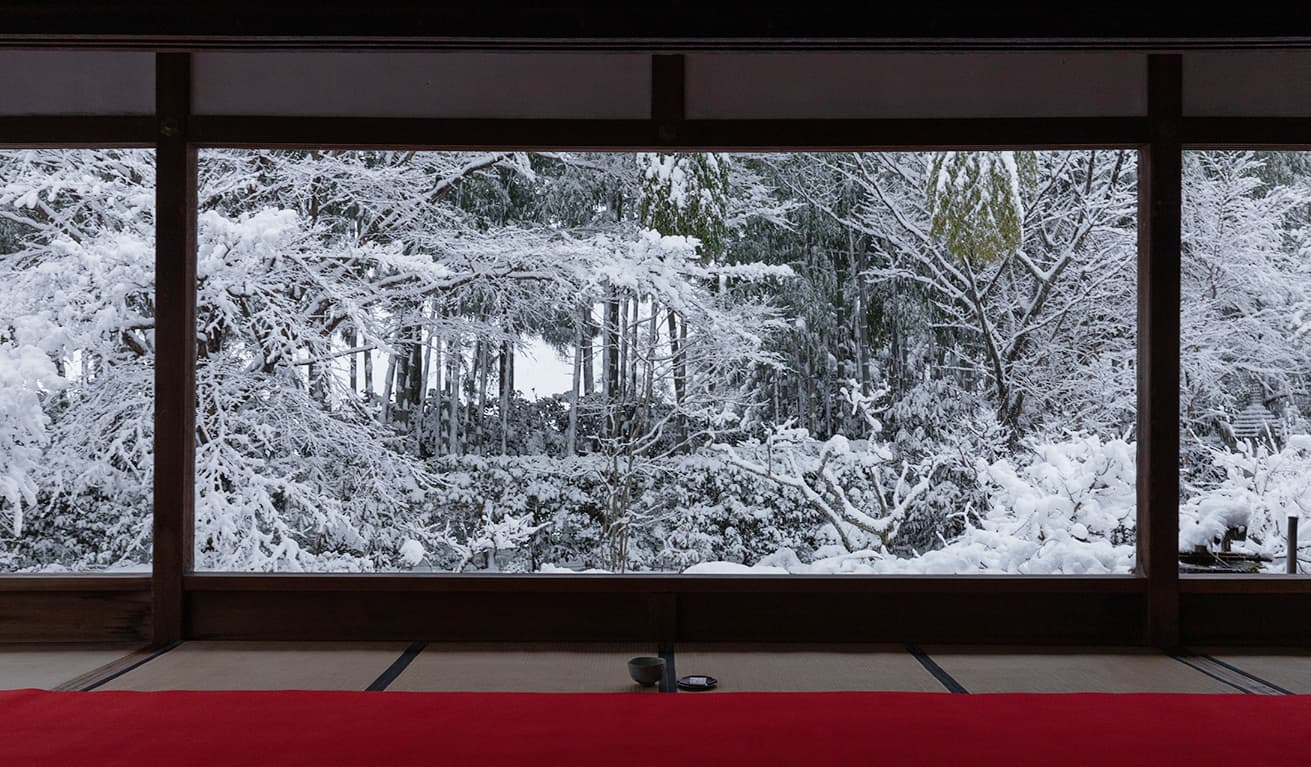 THE JUNEI HOTEL's Recommended Winter Plans
Once the autumn leaves have fallen, Kyoto welcomes winter, characteristically cold for how the air settles in the city's basin-like geography. One of the best ways to appreciate Kyoto is by enjoying the various rituals to ring in the New Year, and if you encounter many of the famous temples and gardens covered with snow, it is certain to be a scene you'll never forget.
An Example Recommended Route:
DAY 1
DAY1 11:00 AM
Lose yourself in the austere beauty of
a nearby temple.
In December the ground is carpeted with maple leaves and Dodantsutsuji bushes turn crimson. After that, the early blooming winter cherry blossoms, Kanzakura, start to bloom in hidden spots like Jikishian Temple and Anrakuji Temple. One of the other poetic winter sights is the Arashiyama Hanatoro event, with lanterns giving the bamboo forest an especially mystical feel.

Come January, Kyoto is filled with events to mark the start of the New Year, like the Kemari-Hajime event at Shimogamo Shrine, which involves an elegant game of kickball enjoyed by the Heian court nobles. When it snows, the usual landscapes of Kyoto's shrines and temples change into a magical silver landscape. Ginkakuji Temple, Shisendo Temple, and Myomanji Temple's Garden of Snow are at their most beautiful when the rooftops and gardens are covered with snow.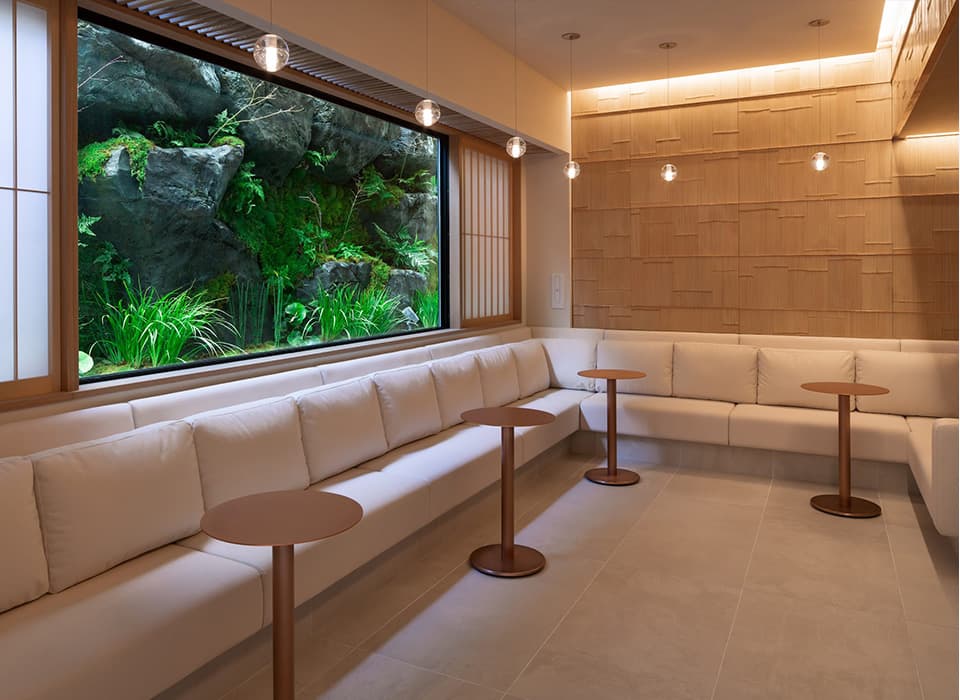 DAY1 3:00 PM
Check-in
After passing through an entryway lined with bamboo art, find yourself immersed in high quality bamboo craftsmanship from Arashiyama featured throughout the lobby, and take a breather with a seasonal welcome drink.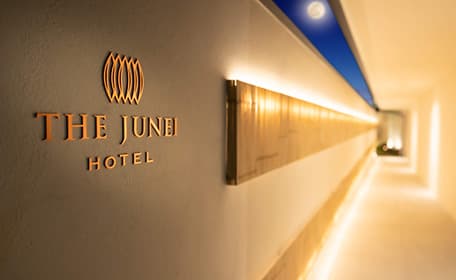 DAY1 4:00 PM
Feel at ease with an elegant Japanese sweet refreshment and
one of three specially selected teas from the Wazuka District of Uji.
While you're at it, appreciate the fine Kiyomizu-yaki pottery.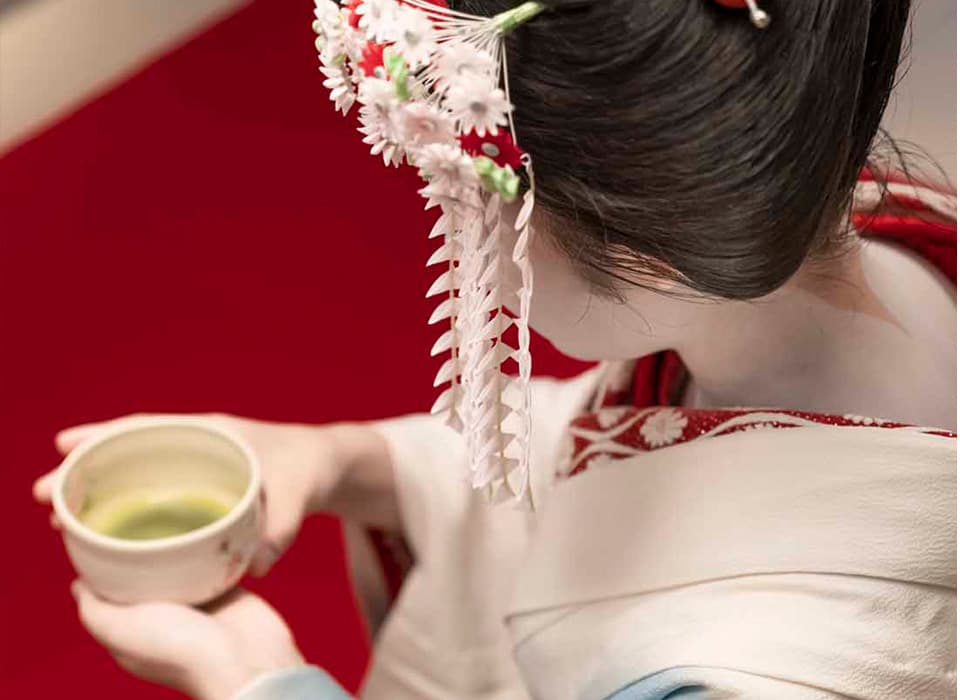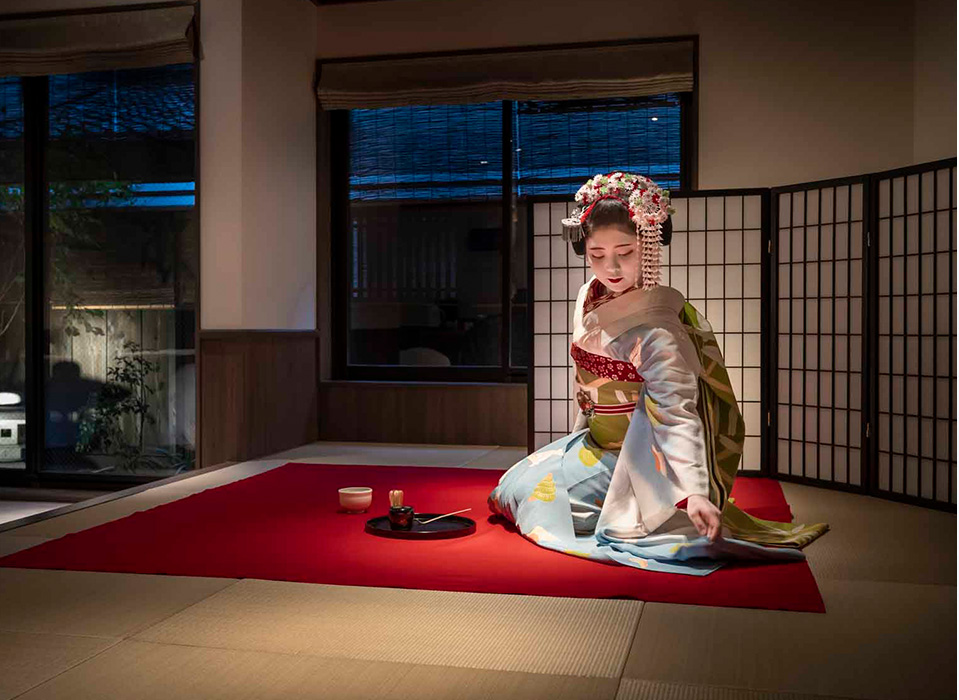 DAY1 6:00 PM
Enjoy your very first "Ochaya-asobi" session with a Maiko, who usually refuse first-time guests.
In the privacy of your own guest room, appreciate a traditional performance and get to know more about a Maiko's life as an artisan with a question and answer session. This highly exclusive, refined experience is also your opportunity to take photos with a true representative of Kyoto culture.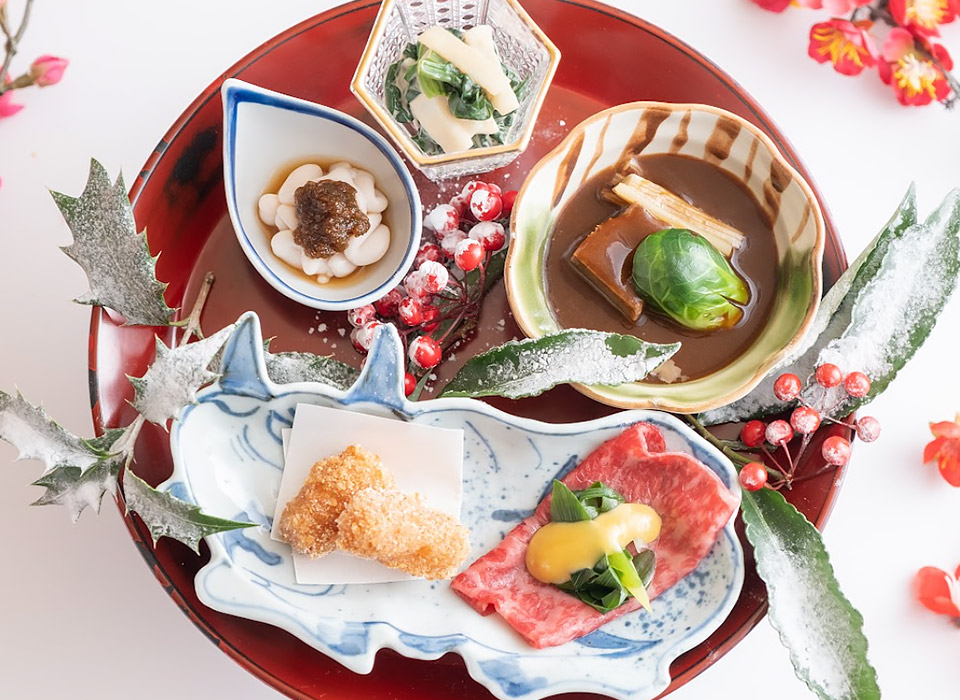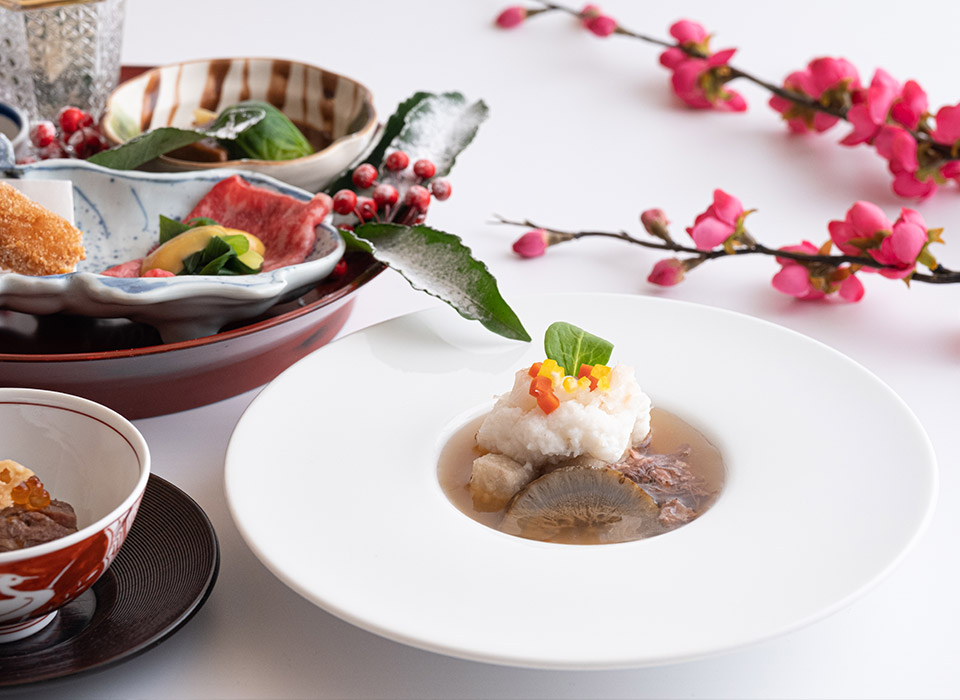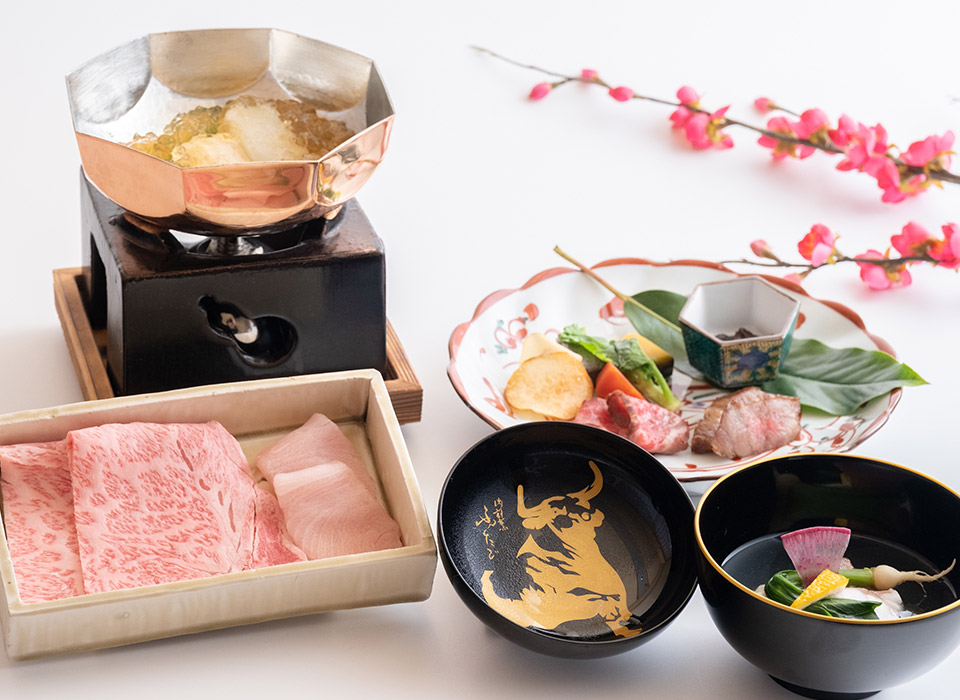 DAY1 7:00 PM
Enjoy the seasonal flavors and beauty of Japanese cuisine with a special Wagyu course meal at Niku Kappou Futago, which brings out all the potential of Japanese beef.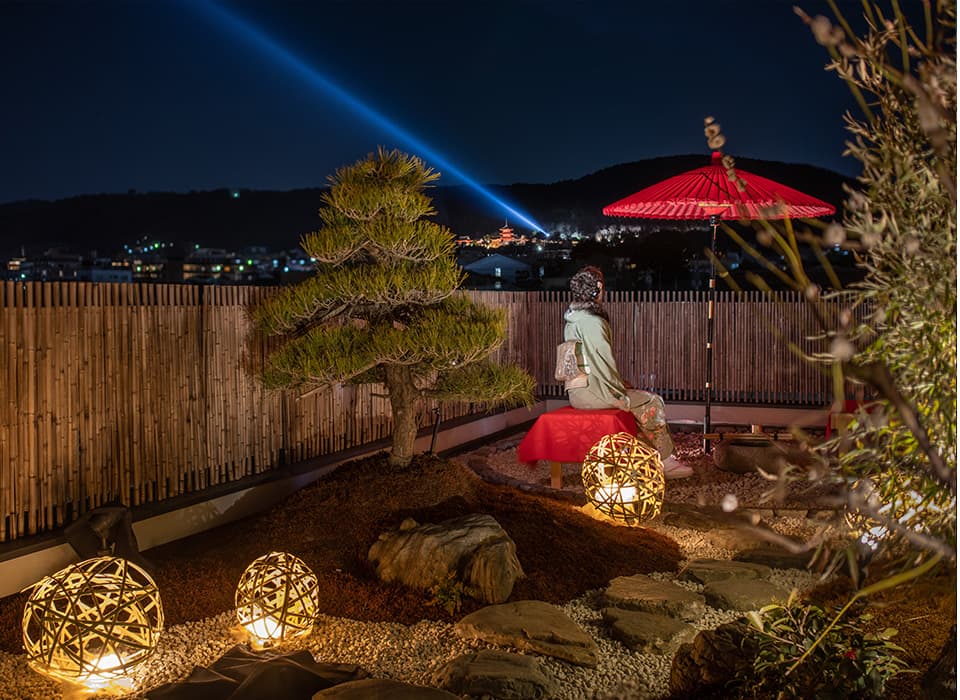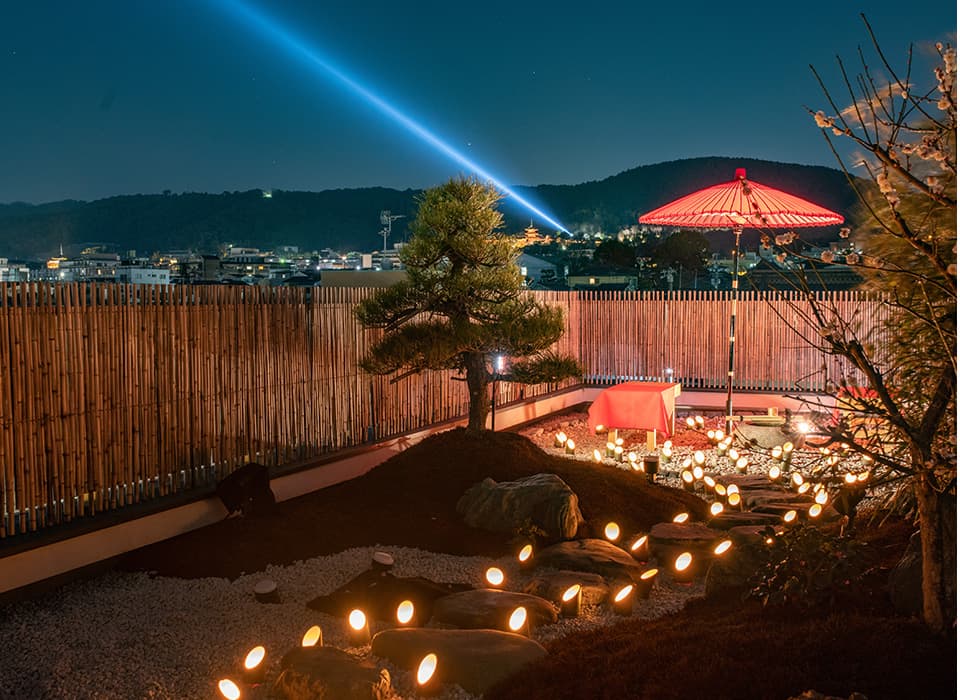 DAY1 9:00 PM
Refresh yourself with a visit
to the dry landscape garden on the roof.
DAY1 9:30 PM
Relax in bliss. After refreshing yourself with a moonlit trip to the sauna, slip into an even deeper state of relaxation with an aroma oil massage.
Relieve yourself of travel weariness, body and soul.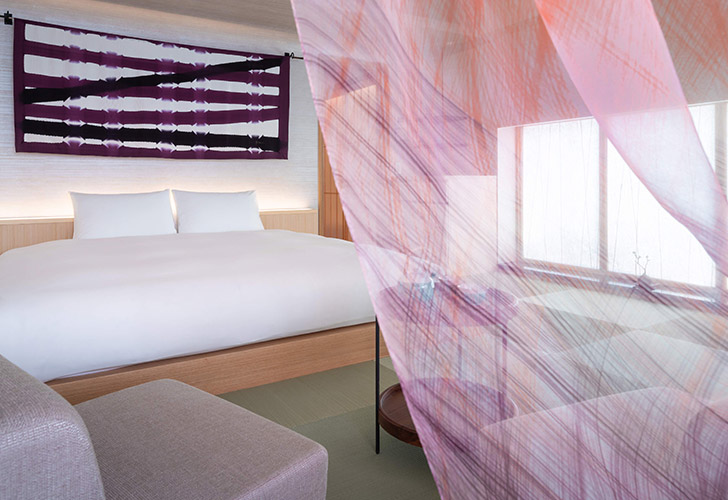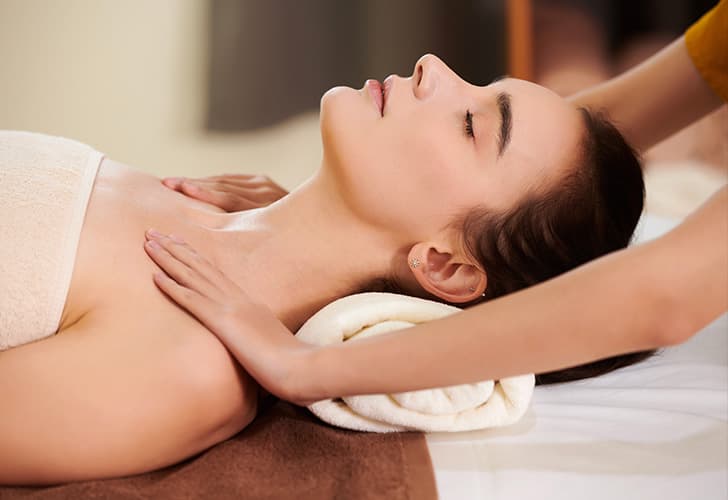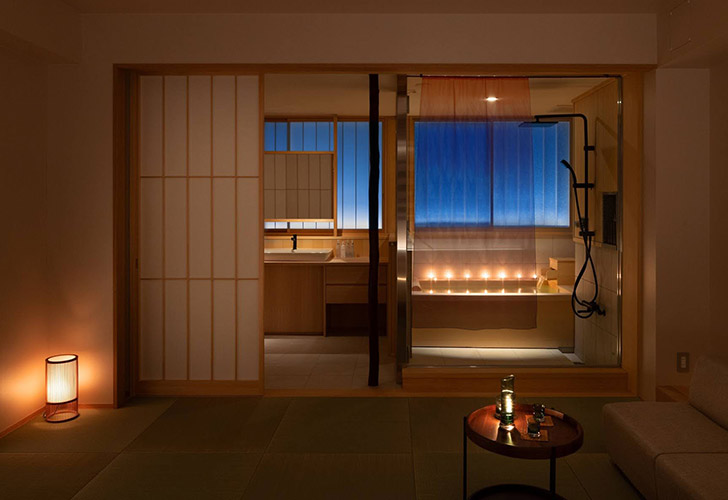 DAY 2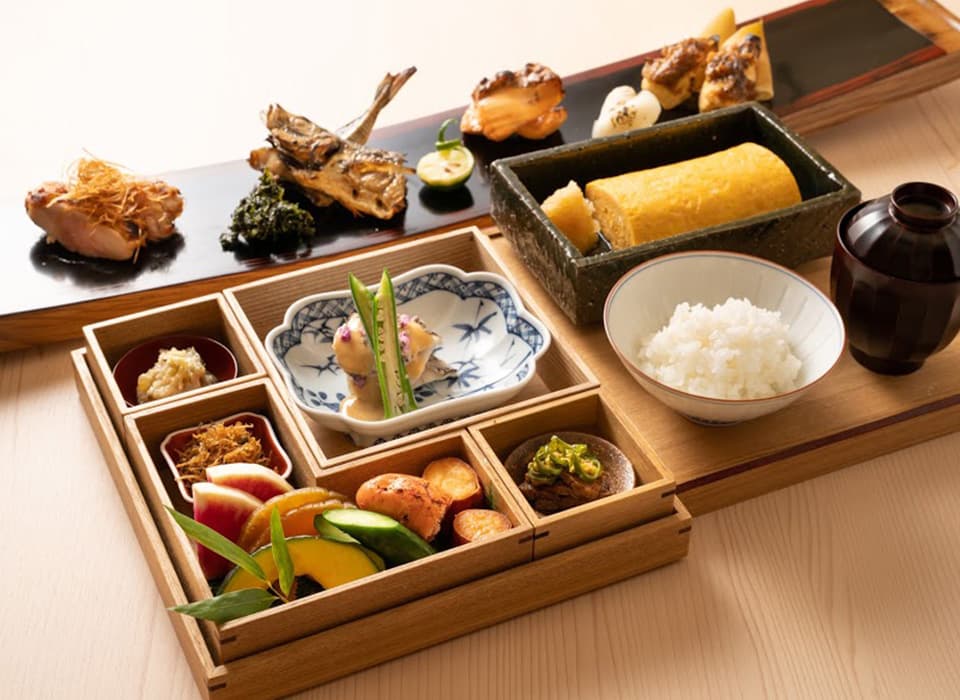 DAY2 8:00 AM
Enjoy a Kyoto style breakfast at Niku Kappou Futago.
All the best local ingredients are presented with finesse which will give you a state of tranquility to start your day.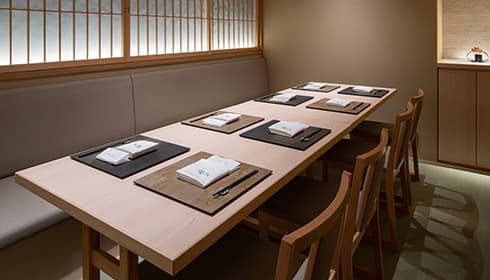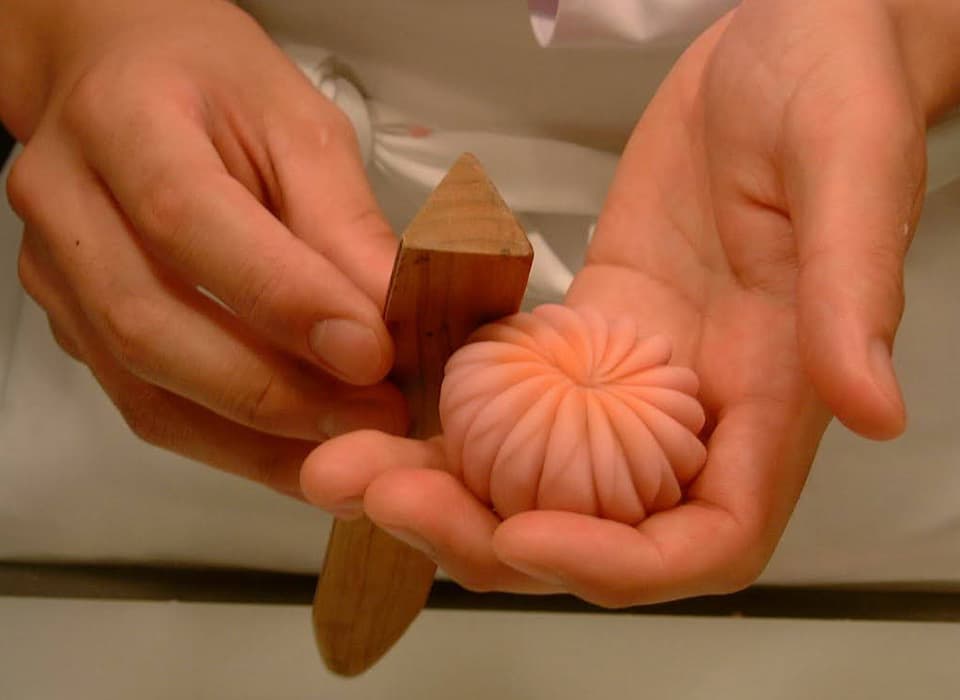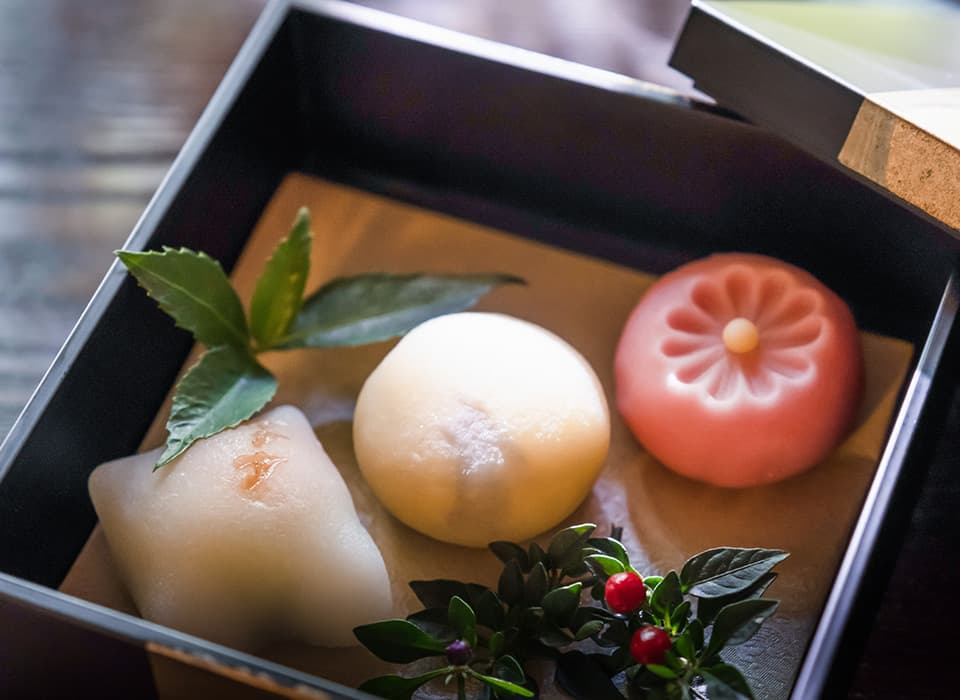 DAY2 10:00 AM
A True Kyoto Style Confectionery Class
Together with a master craftsman, you too can mold fresh, colorful sweets which reflect the beauty and imagery of each season. After the class, you can take your fresh creations home to enjoy later in the day.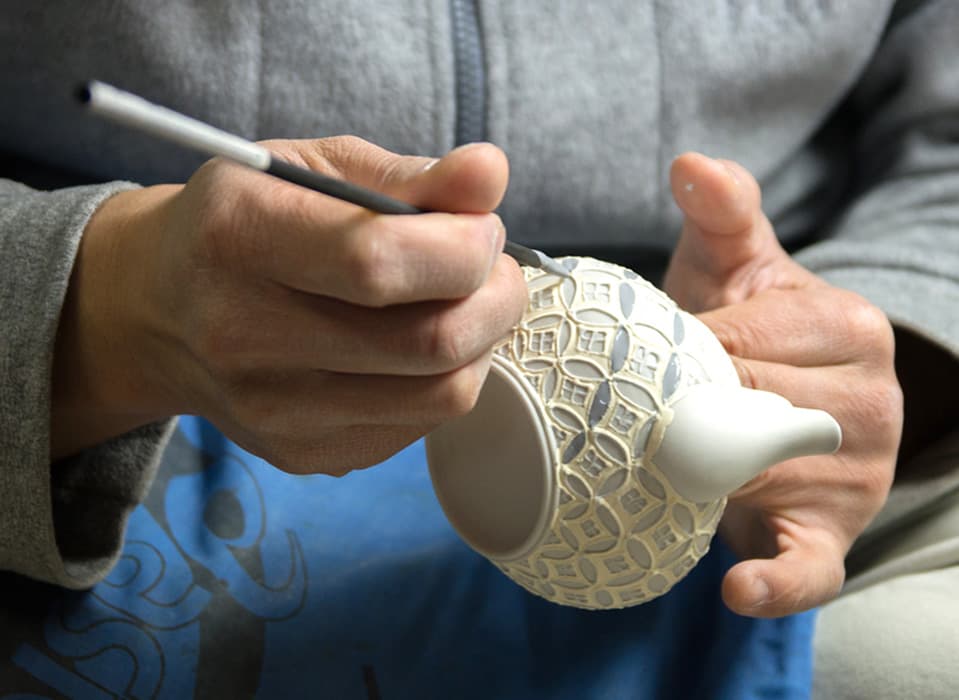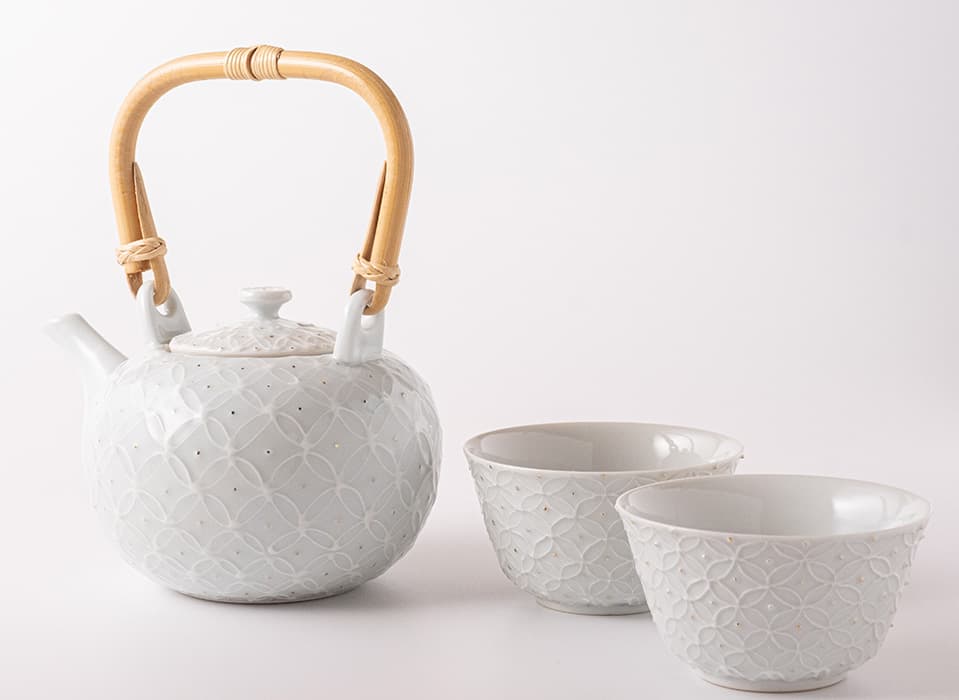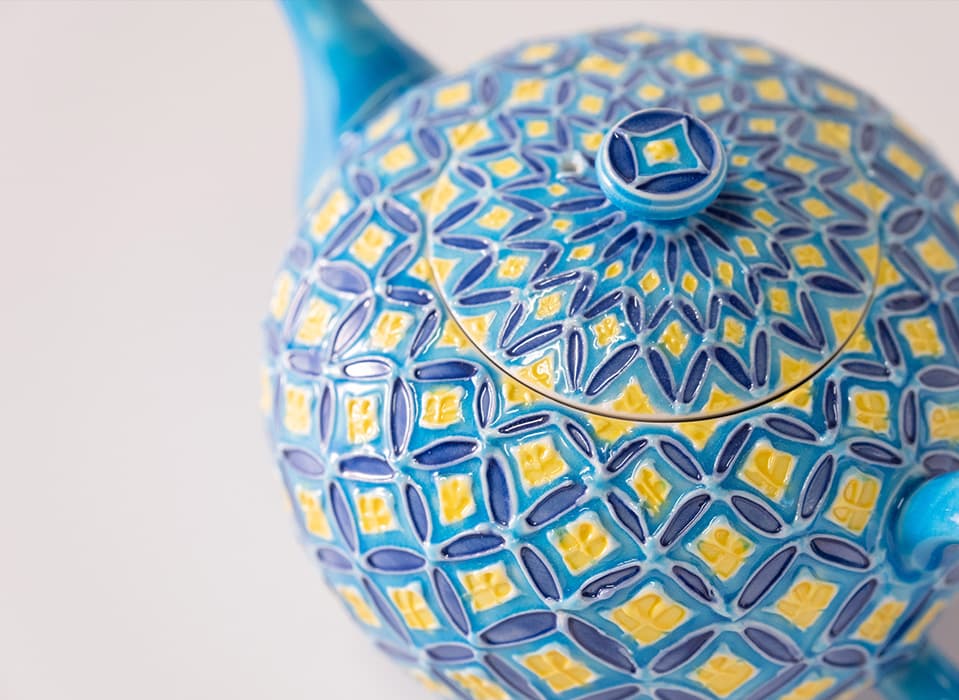 DAY2 1:00 PM
Kiyomizu-yaki Ceramics Workshop Visit Koshungama Kiln for an exclusive lesson in how to apply the lacelike "icchin" technique, taught directly by Mr. Takashima, an appointed "Kyoto Master Artisan of the Future."
Visit the Kyoto National Museum, a five minute walk from the hotel.