We guarantee the best room rate through our official website.
Experience the comforts of
Kyoto with all five senses,
in a space just for you
A calm gorgeousness, subtle fragrances,
gentle sensations, serene music, and elegant Kyoto flavors.
We've made the finest selections to ensure
a peaceful state of mind during your stay.  
Interior Design
Each of the Japanese-modern style rooms features original Kyo-Karakami paper art pieces by master craftsman Mr. Ko Kado of the Kamisoe workshop in Kyoto's Nishijin area.
Created by using a variety of pigments and woodblock printing techniques, the pieces add a gentle nuance to each space. The natural strength and warmth of the Japanese paper used throughout the interior also adds richness and comfort to each room.
Living Background Music
The murmuring of a clear stream, the chirping of little birds, and the wind passing between branches. These are among many of the natural sounds masterfully harmonized with piano to create the original living background music used throughout the hotel.
Please be at ease and enjoy getting swept away in this musical scenery from the comfort of your guest room, or enjoy the option of playing your own music from your smartphone.
The Flavors of Japan
In each room you'll find Fu-no-yaki, a treat said to have been used by warlord Toyotomi Hideyoshi at the historic Kitano Tea Ceremony, and prepared by Kyoto confectioner Kameyakiyonaga, a company established over 400 years ago.
Please enjoy it with one of three types of sommelier-selected tea from Uji's famous tea district, Wazuka-cho.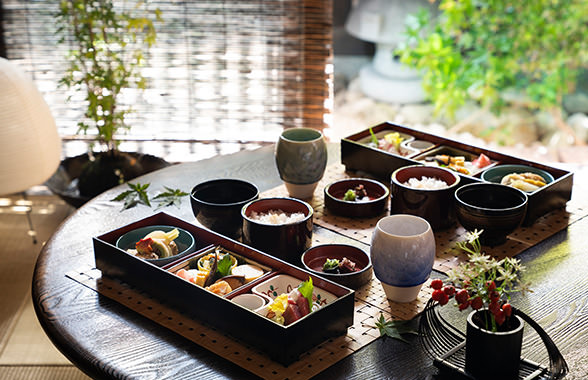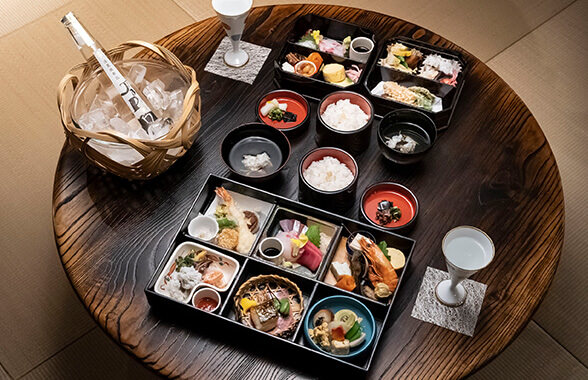 Shidashi Style Breakfast
Shidashi is a refined, traditional catered meal service which you can only experience in Kyoto.
We proudly present breakfasts from long-established Shidashi specialist Niwasa delivered straight to your room, but we can also make orders to just about any Shidashi restaurant in the city.
We kindly request that guests make their orders by 5:00 PM the day before.
Depending on the plan selected, breakfast can also be served with fruity, fragrant, low-alcohol JAPON sake from Tanzan Shuzo, one of the Arashiyama area's finest brewers.
Bedding & Bath Time
The rooms are furnished with iSeries Serta mattresses.
Luxury hotels around the world use this premium American brand to ensure the best sleep, and the iSeries features gel memory foam which also keeps you cool.
The linens are JUNEI HOTEL Original 100% cotton sheets produced by Kyoto Nishikawa.
The gauze pajamas produced by Kyoto's Daitou Shingu are made with "Kyo Wazarashi Mensya" cotton, a soft, airy weave, which ensures a relaxing, refreshing sleep.
The cushions and bed throws are Kawashima Selkon, providing an accent to each room that encompases both traditional textile techniques and modern design.
Inviting Aroma
From the moment guests arrive,
they can sense a subtle fragrance refreshing them from their travels.
The hotel's seasonal fragrances
in the front entryway are uplifting without being overpowering,
and are composed by Air Aroma,
a well used brand in many luxury hotels.
Furthermore, the Igusa soft rush used in each room's tatami mats have a gentle,
comforting, nostalgic Japanese scent.